Hax


Hackerspace Weekend Festival

About | Schedule | Volunteer | Sponsors | Talks | Open mic and music jam | Exhibits | Gaming | "Anti"-social | Parking | Organizer meetings | Remote participation | Archives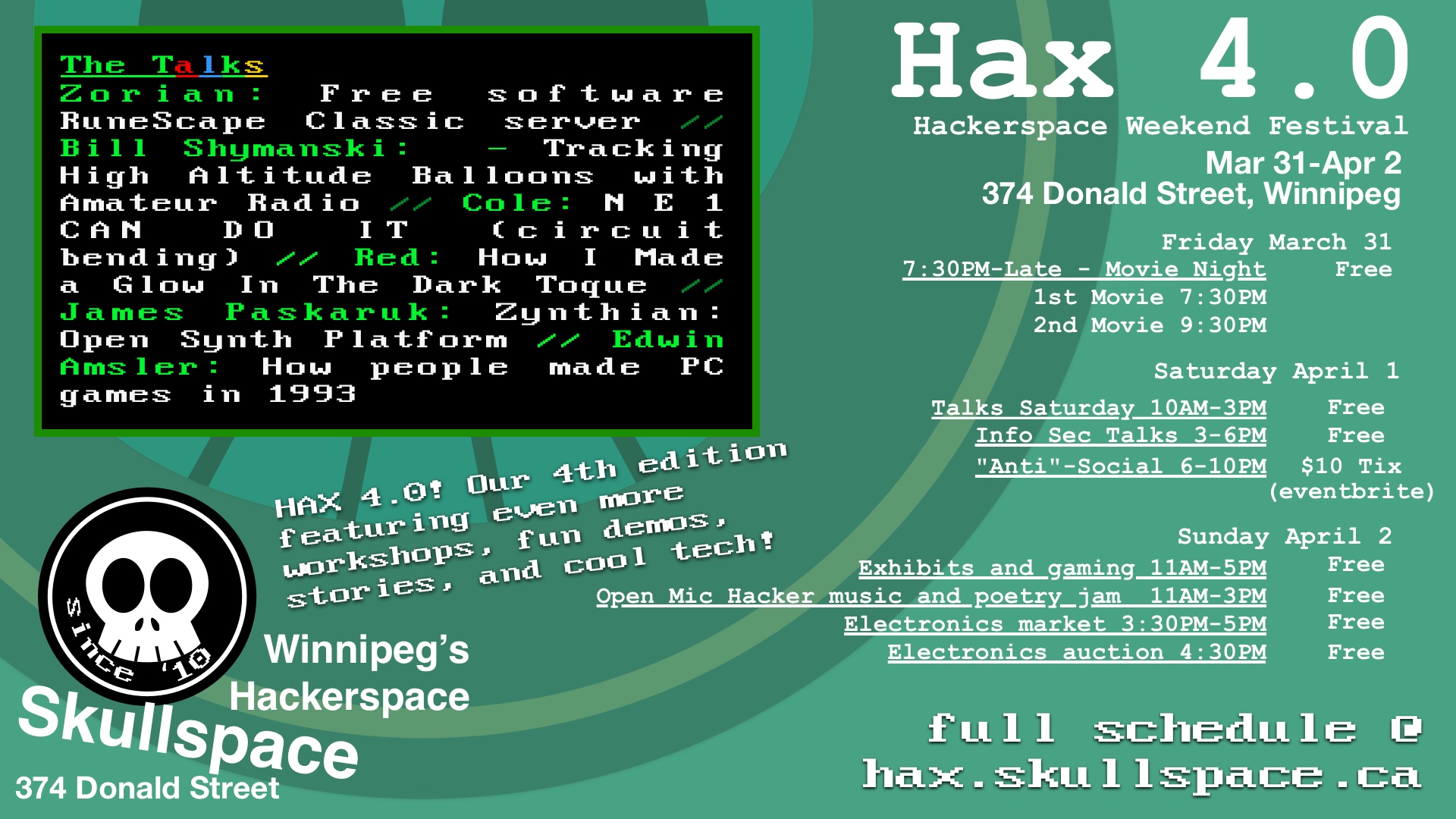 About
Hax is a weekend festival at Skullspace. It is our annual opportunity to celebrate and promote our broad hackerspace community, which includes technologists, musicians, DJs, gamers, crafters, artists and other tinkers. The festival condenses the hackerspace experience into an entire weekend.
We regret that our location, the 2nd floor of 374 Donald is not mobility accessible. There are three flights of stairs up 1.5 stories.
Hax 4.0: March 31 - April 2, 2023
Friday March 31, 2023
Movie night hosted by Thor. (lounge)
Saturday April 1, 2023
Saturday daytime:
(free event)
| | |
| --- | --- |
| 9am | Doors open |
| 10am-5pm | Exhibits and gaming (workshop/lounge) |
| 9:30am-3pm | Talks of general interest to a hackerspace community (classroom) |
| 3pm-6pm | Skullspace Security C-sides -- Information security talks (classroom) (CFP) |
Saturday night:
(ticketed event)
| | |
| --- | --- |
| 6pm-10pm | Saturday night party -- Hang with hackers. Gaming. Conversation. Chill music. Light drinking. All with a reasonable bedtime. (ticketed event) |
Sunday April 2, 2023
(free event)
| | |
| --- | --- |
| 11am-5pm | Exhibits and gaming (workshop/lounge) |
| 11am-3pm | Hacker music and poetry jam (classroom) |
| 3:30pm-5pm | Electronics market (classroom) |
| 4:30pm | Electronics auction (classroom) |
Volunteer
We welcome volunteers for the smooth running of gaming, exhibits, our open mic, operations, and several other roles.
See our volunteer form for a complete list and to apply.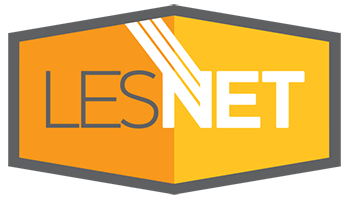 The members of Skullspace are critical oragnizing and operations volunteers and also are funding talk honouria
RedBull is providing samples.
Les.net provides us sturdy roof-top internet year-round. At the festival this supports our remote speakers, movie night broadcast, and guest wifi.
Saturday Talks
We are still looking to add a few information security speakers for our Skullspace Security CSides.
All talks will be available in the Skullspace classroom. A select few will also be available to remote participants.
Talks of interest to a broad hackerspace community 9:30am-3pm
| | |
| --- | --- |
| 9:30am | Brad Taylor -- A hand-built HDMI LED display running SNES @ 60 fps |
| 10am | James Paskaruk -- Zynthian: Open Synth Platform -- (Google Meet video conference. Attendees admitted between 9:50 and 10am) |
| 11am | Bill Shymanski -- Unidentified Flying Hackers -- Tracking High Altitude Balloons with Amateur Radio |
| 11:45am | Zorian -- Free software RuneScape Classic server |
| 12:30pm | Edwin Amsler -- How people made PC games in 1993 (pre-recorded with YouTube live premiere and chat) |
| 1pm | Cole -- N E 1 CAN DO IT (circuit bending) |
| 1:30pm | Red -- How I Made a Glow In The Dark Toque |
| 2:15pm | Shibashis Bal -- AI Against Wildlife Trafficking: Innovative Solutions for Combatting Illegal Trade |
Skullspace Security CSides -- information security talks 3pm-6pm
Free tickets to our 6pm reception will be raffled throughout.
| | |
| --- | --- |
| 3pm | William Franzin -- Using a security hole to re-purpose and reverse engineer smart bulbs and plugs |
| 3:45pm | Shibashis Bal -- Exploring SAQ C -PCI DSS Control 12.3.1 |
| 4:30pm | Mark Jenkins -- PGP smart cards deliver practical strong cryptography |
| 5pm | Open speaking slot. Your talk could be here. Alternatively, we will showcase classic infosec recordings and have round-table discussions on their implications. |
Mark Jenkins introduced the festival (*) and the talk line-up on March 3rd. (audio 256kbit/s mp3) (slides)
The late night mentioned has been replaced with a 6pm-10pm party.
The original call for presentations is archived.
Hacker music and poetry open mic and jam
Sunday April 2nd starting at 11am
An opportunity for community members to showcase their musicianship, poetry, or combined.
The session will start open mic style with each performer offering the typical format of 1-2 songs/poems or approximately 3-8 minutes.
We'll welcome any performance showcasing the talents in our community, but if you're able to prepare something, consider the following themes relevant to a hackerspace community:
Community building
Technology
Comedy/parody music
Nerdcore hip hop
Tributes to the soundtracks of gaming, science fiction, fantasy, comic book adaptations etc.
Esoteric instruments
Electronic instruments, synths, sequencers, looping pedals
Music and/or lyrics generated or assisted by machine learning/language models/ai
Experimental styles
Following the open-mic session we'll have a music jam session on top of various chord progressions and styles.
Reach out to Mark Jenkins for any suggestions of backing or chord progressions you'd like to hear in the jam portion.
Confirmed performers
Mark Jenkins -- vocal, diatonic button accordion, synth/sequencer, alto recorder
Michael Hleck (Infyuthsion) (SoundCloud) -- synth
Marty Green (YouTube) -- vocal, accordion
(Some folks may remember Marty from the days of public-access television when he hosted Math with Marty)
Not looking for
Two rules for what we're not looking for in this Sunday session:
We love and respects both of these things, but they're not in the spirit of a traditional open mic or music jam.
Regarding DJing, we will have a great showcase on the Saturday evening and certainly at other evening events going forward. There may also be some room for some light DJing between Saturday talks and during the later part of Sunday when we're holding an electronics market. Reach out if that's of interest.
Regarding karaoke, we want to encourage a level of musicianship at this session that's not reliant on on-screen timing cues. Performing with a backing track is fine. Using a sequencer or a looping pedal is not only awesome but actually on-theme. Using a chart, music book or lyrics is totally cool. And relying on on-screen timing is acceptable if you have an accessibility reason.
Exhibits
Reach out to Mark Jenkins mark@parit.ca if you have something to exhibit.
The Air Jordon of early 90's chess computers -- Saitek Kasparov GK 2000 -- Saturday and Sunday
A look at tech and wildlife trafficking -- Saturday afternoon after 2pm
IISD Experimental Lakes Area, their technology, and their field technician position for hire, April 3, 2023 application deadline. Staff on site Saturday daytime.
An assembed Gigatron TTL with a hardware tweak
Gaming
Table-top gaming sessions with hosts
1pm-5pm Saturday -- Magic: The Gathering, Commander format, decks provided
Introduction to Dungeons & Dragons, sessions 1pm-3pm and 3pm-5pm Saturday
6pm-10pm Saturday, noon-4pm Sunday-- Chess
Video game consoles and setups that will be present
NES
Sega Genesis
N64
SuperNT (FPGA SNES clone)
1990s LAN games
Saturday Night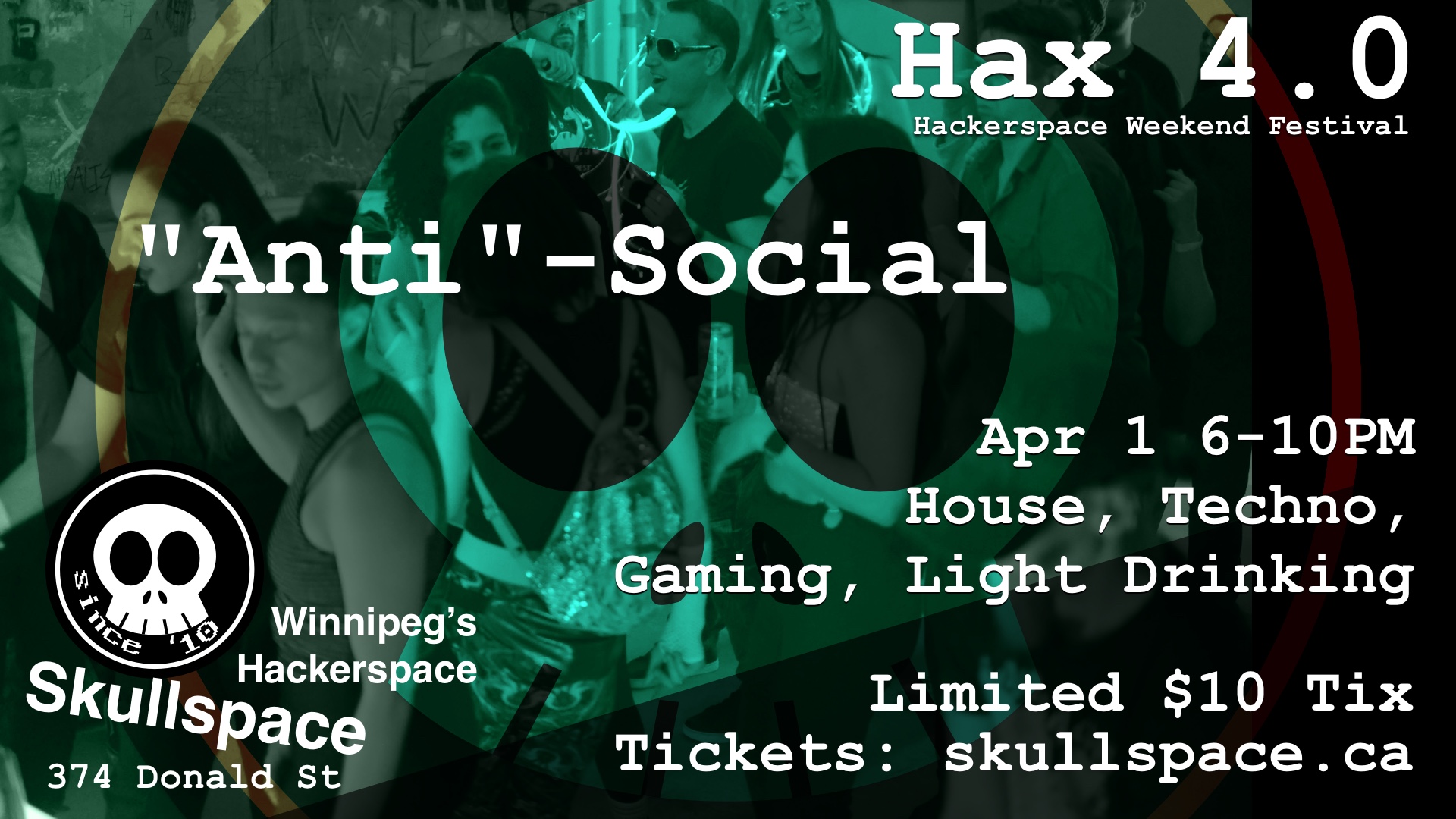 Saturday night features a party 6pm-10pm. Tickets are required. DJs are: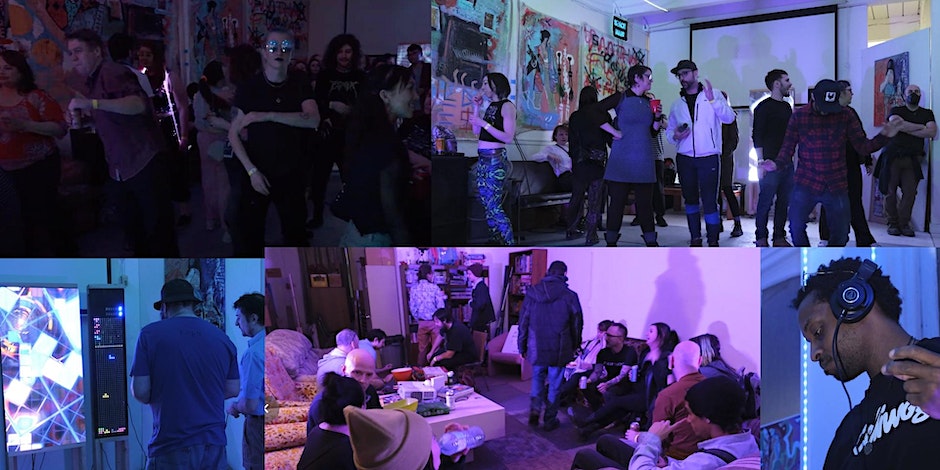 Parking
There is a lot of commercial and free street parking in the neighbourhood.
Our block of Donald and nearby Hargrave steet are metred on Saturdays daytimes with two hours free.
(pay for two, get four free, or just enjoy your free two, pay after for two more or move to another block).
Notre Dame west of Hargrave has no metres or Saturday/Sunday time limits.
All street parking is free on Sunday.
Organizing committee schedule
All organizer committee meetings have wrapped up. If you'd like to help next time, come say hello at the festival.
Remote participation
Our festival is largely in-person, but we have two planned talks that will be available remotely.
James Paskaruk's talk, Zynthian: Open Synth Platform will be held in a Google Meet video conference at 10am Saturday April 1, 2023. Attendees will be admitted between 9:50 and 10am)
Edwin Amsler's talk, How people made PC games in 1993 will premiere on YouTube at 12:30pm Winnipeg time on Saturday April 1, 2023. YouTube chat will be supported, which requires a Google account
We regularly hang out in two places online
Archives
About | Schedule | Volunteer | Sponsors | Talks | Open mic and music jam | Exhibits | Gaming | "Anti"-social | Parking | Organizer meetings | Remote participation | Archives